---
Posted on | February 5, 2009 | 12 Comments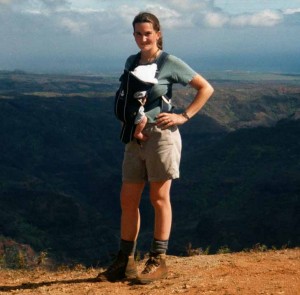 Worldwide we're being bombarded with gloomy economic news and forecasts full of doom. I've been more than a little battered around by the effects of this over the past few months and so today, for Photo Friday, I'm posting a little pick-me-up for me – I hope you enjoy
This photo was taken at the rim of Waimea Canyon in Kauai. But not from the viewpoint on the road. Oh no, we hiked the Canyon Trail and then continued on UP to the lookout over the rim. It was about a 3 hour hike with some elevation gain. BigB, in the Baby Bjorn, was about 10 days old, I know we stopped for at least one diaper change and maybe even a quick nurse along the way! It was eight years ago (long before I was blogging about my travels with my children), so I'll defer to the TravelingMamas for an excellent summary of trails in this park.
Related Posts
More Hawaii Photos
Hiking (and more) in Seattle
Subscribe to this blog using RSS, email or follow me on Twitter.

Share and Enjoy
Comments