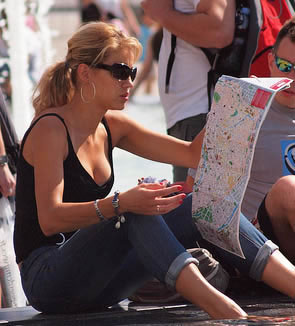 by Beth Whitman
The old adage goes that if you are prepared for a journey, then nothing will go wrong. Ultimately, planning in advance for any issues that might arise for you and your family while you're traveling is just as important as what you pack.
Consider these tips for planning your journey – whether you're traveling abroad, domestically, taking a road trip or are taking off for a short weekend getaway with the kids in tow.
1) Read guidebooks about your destination to learn as much about the culture, history and current events that you can. Guidebooks are invaluable with the amount of information that's packed into them. Some of my favorite guides include those published by Rough Guides and Lonely Planet. And these aren't just for international travel – don't dismiss picking up a guidebook when you're traveling within your own country, state or city. And, you never know, you might find that the kids will choose these over online research!
2) Join forums on websites such as Lonely Planet's Thorntree and Fodor's Talk. Also, join groups on Facebook that specialize in your destination. Being able to communicate with other travelers in near real time means that you are going to be up to date on any issues (safety, weather or otherwise) that might have just arisen. Knowledgeable travelers (including the kids!) will have a safer journey than those who step into a situation blindly.
3) Understand your medical insurance policy and determine whether you or anyone in your family needs coverage for health, travel or evacuation (important if you're traveling to a remote region). Here's a Good2Go Travel Checklist with more information about insurance options.
4) Create a list of emergency contacts. It's better to be prepared than to be scrambling to reach family or friends if you are in need of help. Keep a copy of this list with your other travel documents, a copy at home and email a copy to yourself so that you can access it easily if you've lost your paper copies.
5) Print out copies of all reservations (hotel, car rentals, etc.) so that you have them handy. Also keep this information on a thumb drive and keep copies of the info in your email. There's nothing worse than a hotel that's lost your (bargain) reservation and you can't prove the deal when you check in.
***
Traveling is supposed to be fun and worry-free. And while it may not seem "fun" to have to be so prepared – it's better to do a bit of work in advance rather than finding yourself in an unpleasant situation thousands of miles from home!
*****
Photo credit:
Woman reading map: zoetnet

Share and Enjoy