Paros, Greece
As part of last week's Photo Friday, Heather over at HeatherOnHerTravels posted a beautiful view photo taken on Zakynthos, Greece – there's an intriguing story behind the photo which you should check out too
Her photo from this Ionian island made me think – wistfully, I might add – of the many fun times we've had on Paros, one of the Cyclades islands. It is truly an island paradise. The photo above is the view from in front of the house where we stay on the island (which belongs to a family member).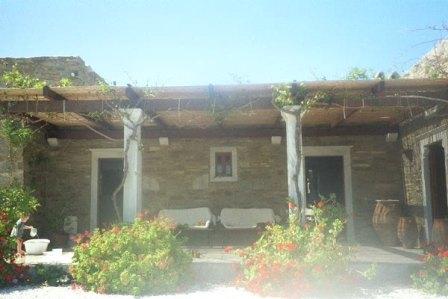 CAM outside the house where we stay on Paros 1998 (far left of the photo).
What more does a two-year-old need? Sun, open air, a tub of water and a container with which to pour. Hours and hours of endless fun.
Have you been to any of the Greek islands? Do you have a favorite? Do share – I don't need an excuse to return to Greece, but I'd love ideas on other islands to visit the next time we're there. Leave a comment.
Check out more travel photos at DeliciousBaby.
Like what you've read and interested in reading more? Subscribe to the WanderMom rss feed, follow me on Twitter or become a fan on Facebook.
Related Posts
[catlist tags=Greece]
Share and Enjoy