Melbourne is the capital of the Australian state of Victoria, which is the second smallest but most densely populated state. Melbourne is a bustling vibrant capital city, with interesting neighborhoods to explore, good shopping and great dining.
We visited Melbourne in 2000, when CAM was three and I was pregnant with BigB. My top-5 attractions for the city itself:
I was most interested in The Melbourne Story exhibit at the Museum where I learned about much of Australia's history. The Melbourne Zoo – with all the expected native animals – was a big hit with CAM.
When we were planning our trip, we learned about the beauty of the Great Ocean Road and the nature preserve on Phillip Island – where the world's smallest penguins nest.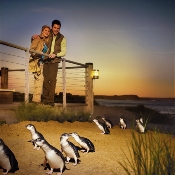 If you visit Phillip Island at dusk, from some bleachers which have been built along the sand dunes you can watch the penguins come in from the ocean and rush by you to find their nests. It is the most amazing sight since these penguins are so tiny. We were enthralled. Unfortunately, the 'show' is very brief, but it is an experience not to be missed.
I plan to return to Australia within the next 2-3 years. If you have ideas or suggestions for places to visit and things to do, please let me know.
This post is part of Mara's Monday Dreaming series.
Related posts:
Melbourne Fire Station
Subscribe to this blog using RSS, email or follow me on Twitter.
Share and Enjoy