If you visited Seattle in summer 2001, you may have noticed some interesting street art: there were decorated pigs all around the city. This was a fund-raising effort by Pike Place Market. The pigs, of course, were in honor of Rachel, the life-size bronze piggy-bank who sits at the entrance to the market.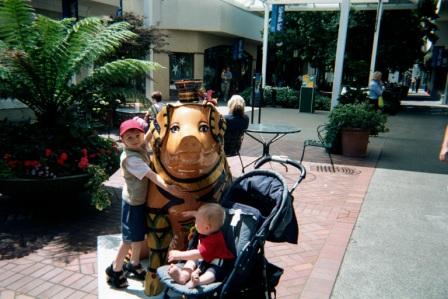 CAM and BigB (although he wasn't so big then) with King Pork Cheops.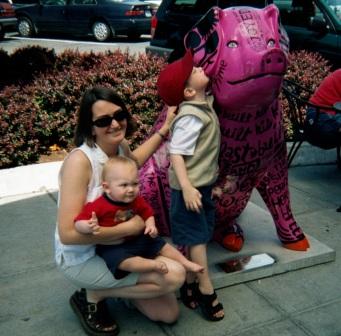 PigTales was CAM's favorite pig.

I think he just loved this twist on the traditional princess-kisses-frog story.
You can see more of the pigs at the Images of Seattle website.
Check out more photos in the Photo Friday series at Delicious Baby.
Related posts (more travel photos):
I Love Legoland
but i thought we were going to rio for mardi gras
Mayan ruins and water parks in Mexico
Subscribe to this blog using RSS, email or follow me on Twitter.
Technorati Profile
Share and Enjoy