I'm loving coming up with posts for the Monday Dreaming series started by MotherOfAllTrips. There are just so many places on this planet which I can't wait to visit – and of course, since we're currently planning a RTW trip with our children, we're already brainstorming ideas for places to go and things to see or do on that trip.
Today, I decided not to focus on one place, but instead to share the ideas which we each came up with on our first "where should we go?" conversation. There are two reasons for this: (i) I want to document our starting point and (ii) I realize that our lists reflect our current interests before we start truly researching countries and destinations. I know there are many other places we should be considering.
I've arranged the top-5 lists by person so you can also get a flavor for the personalities involved.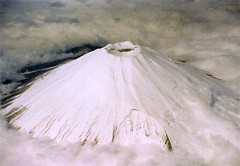 Mt. Fuji, Photo credit: Flickr
BigB: Eight years old, a have-toothbrush-will-travel guy, eager to get going.
Hawaii. He's seen the photos of our trip to Hawaii when he was three weeks old, but we haven't been back since.
Mt. Fuji. Studied Japan at school last year and is fascinated by everything Japanese – this is mom-speak for he loves his Nintendo DS.
A paradise island like Fiji. Again, a family tale he's heard of but which happened while he was in utero.
Tokyo. Japan is definitely a theme here.
The Pyramids at Giza. Interesting, he doesn't even know that this was the first place I visited as a solo traveler.

Kilauea, Photo credit: Flickr
CAM: 12 years old, prefers to stay at home rather than travel anywhere – except maybe to places he's already been.
Kilauea, Hawaii. A budding scientist wants to see the earth growing in front of his eyes.
Ireland. So familiar to him it could be Seattle.
Iceland. Oh, also prefers to visit cooler climes.
Greece. Paros specifically. This falls into the "places we've already visited" category.
Seattle

Santiago, Chile, Photo credit: Flickr
WanderDad: Current choice for departure date: tomorrow.
Chile. To tromp in the steps of that other famous Irishman: Bernardo O'Higgins.
Petra, Jordan. Thousands of years old and still there.
Thailand. He says it's for the bar girls, but I don't believe him.
Carthage. Everyone else does Greek or Roman, he wants to learn about the Phoenicians.
Iran. A country with a fascinating culture and history.

Havana, Photo credit: Flickr
WanderMom (me): The family juggler, planner and organizer. Chomping at the bit to go, but insisting that we take the time to plan.
So, where or what do you suggest we add to our list of places to visit and why? Leave me a note in the comments. I look forward to researching all of your suggestions.
Subscribe to this blog using RSS, email or follow me on Twitter.

Share and Enjoy