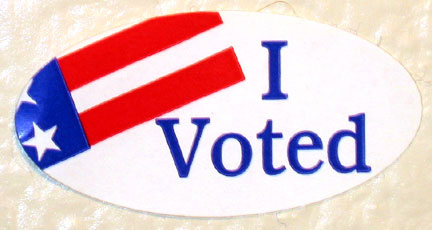 This is the third U.S. presidential election in which I've been able to vote. Becoming a naturalized citizen of a new country is a strange experience that makes you question your own ethnic identity. From the outset, the WanderDad was eager to become a U.S. citizen, but I was not. I couldn't imagine not being Irish. Verifying that I could have dual citizenship (of the U.S. and Ireland) made the decision easier.
In 2000, after five years of living here, we submitted the paperwork, had our immigration interviews and got our U.S. passports. The entire process was quick and painless – although, as a pacifist, I did stumble a little at the commitment to "bear arms on behalf of the United States when required by the law". My examiner assured me that he also hoped that the U.S. never got to the point where moms with young kids were being drafted, so I'd probably be OK.
Since we knew we'd be in Ireland for November and December that year, we registered to vote by mail. We completed our ballots, mailed them off and left the country. But that was not the end of the election for us – not by any measure! For the next eight weeks through the nail-biting tension of initial results on election night to the 'hanging chad' fiasco to the Bush V. Gore drama, we became personally responsible for the vagaries of the political system in our newly-adopted country to everyone and anyone we met in Ireland. It was unbelievable.
This election has been an educational experience for me since the beginning from learning more about how the primary process works through to hearing about my friends and neighbors becoming actively involved as campaign volunteers (I must remember that for next time).
It seems like there have been tough choices to make at every stage. If you're still undecided, take the time to read each candidate's policies. Both Barack Obama and John McCain provide plenty of the information on their respective websites. Make an educated choice. But above all, VOTE!
Subscribe to this blog using RSS, email or follow me on Twitter.
This post is part of the virtual Girl's Night Out Election 2008 discussion which will take place on Twitter on Tuesday 11/4/2008 between 6pm and 9pm PST.
Share and Enjoy