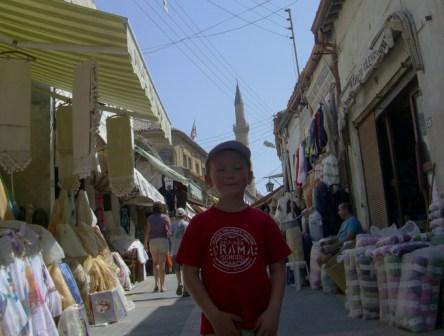 BigB, Lefkosia (Turkish Nicosia)
Nicosia/Lefkosia is an interesting and intriguing place to visit which is unfortunately missed by many people who fly into Limassol or Paphos and head straight for the beaches. We based ourselves in Paphos for most of our time in Cyprus, but prior to the trip, once I learned that it is possible to cross the 'green line' – the border which bisects the island into Greek and Turkish areas – I was eager to visit both sides of the capital city.
With temperatures at or near 40 degrees Celsius (over 100F) for the duration of our visit, it was a challenging but worthwhile trip. We got lost looking for the border crossing and ended up asking a UN border guard where to go. Our kids were not quite sure that asking directions from someone in uniform holding a sub-machine gun was a good idea. The conversation which ensued, on the role and function of the UN was something which would be difficult to slip into everyday conversation.
Crossing the border at Ledra Street requires walking about 1/4 mile through a UN-maintained no man's land. The buildings on either side of the street are pockmarked with bullet-holes and are dilapidated and crumbling. The absence of commercial activity between the border points is eerie. This was something the boys reacted to immediately. Even with the heat they wanted to run ahead to 'get out of this area'.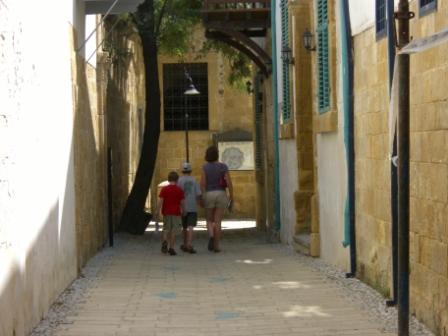 My boys and I exploring Nicosia/Lefkosia (Lonely Planet Cyprus guidebook in hand!)
Turkish Nicosia is just getting used to having (Western) visitors wandering through the streets. Currency was an issue – no dollars or euros accepted – and language was an issue – no-one in any cafe, bar or restaurant spoke english. It was good for our kids to see how we managed with this and how the turkish cypriots we interacted with were somewhat diffident, but friendly. The minarets of the Selimiye Mosque are visible from pretty much anywhere in Nicosia/Lefkosia. However, as we wandered around Lefkosia, we passed many buildings flying the red flag of the Turkish Republic of North Cyprus and the call to prayers was closer and seemed more immediate. The mosque, having been originally built as a Christian church at the time of the Crusades and modified, maintained or added to by the Genoese, the Mamluks, the Venetians and the Ottomans is a fitting visual summary of the history of Cyprus.
We mostly followed the walking tour described in the Lonely Planet Cyprus guidebook which is about a three-mile walk around the old city. There are 15 stops/sights marked on the tour all of which are totally feasible to visit with kids. My favorite stop was the Buyuk Han, an intact and barely-modified example of a medieval han (inn) where we stopped for drinks about midway through our wanders. It wasn't hard to imagine being a road-weary traveler in the 16th century, arriving here to stable horses and find a room for the night.
This post started as a short, photo-only post as part of the DeliciousBaby Photo Friday series – obviously I've got more to say on this topic that I originally thought!
I'd be interested to hear your experiences on visiting partitioned countries like Cyprus or other places which are new countries such as the Balkans or ex-Soviet republics – with or without kids.
Related posts (more travel photos):
Hiking in Cyprus
Pig Photos
I Love Legoland
Subscribe to this blog using RSS, email or follow me on Twitter.

Share and Enjoy