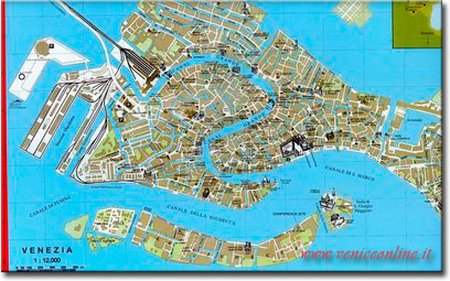 The joys of depending on the Italian train system. We had planned to have a lazy Monday morning in Lucca relaxing after a busy (wedding-filled) weekend, possibly catching an afternoon train towards Venice. Unfortunately, when we arrived at the train station on Sunday afternoon to purchase tickets, we were told that there would be a one-day, province-wide train strike the following day and that if we wanted to get to Venice on Monday, we'd have to catch the 6:30am train. The following morning, for two kids who were still recovering from jet-lag, my boys were troupers as we woke them early and bundled them into a taxi to the train station.
Hence, we arrived in Venice late Monday afternoon, tired and just a little cranky. We found our apartment off Campo S. Angelo with little trouble, dumped our bags and headed out for our first wander around the city with no agenda other than to stretch our legs after a day on trains and to find something to eat. Small and quiet, S. Angelo is in the San Marco sestiere but slightly away from the main "tourist trail" which runs from Piazza San Marco to the Rialto bridge. We followed our noses rather than a map, generally heading south-west towards the famous piazza to try to get a first glimpse of the Basilica di San Marco in the pre-dinner quiet. Our walk led us through Campo San Stefano past some restaurants which were just arranging their outdoor seating. It's funny to think that these squares are called campos because they were once fields – in a city which is now battling to stay above water.
After walking even for a short time through the narrow streets and bridges, when you first come upon Piazza San Marco you immediately feel humbled by the size and grandeur. Our luck was in: the square was practically empty, the restaurants not quite ready to start serving dinner, the pianos quiet and there were only pigeons crowding around the entrances to the (now-closed) Cathedral and Palazzo Di Doge. "Mom, look, it's the golden lion" BigB called excitedly. With the Piazza practically to ourselves, we we were able to take plenty of posed photos of the boys with the famous cathedral in the background. Unfortunately, just a couple of days later, our camera was stolen, so I have no photos to share
For a visitor, Venice is a truly confusing city in which to orient oneself with mostly small cobbled streets, an unintelligible addressing system and, of course, canals. I had no idea that this was the case when we had set out earlier, The Rough Guide to Venice confidently in hand, sure that we'd easily find one of the recommended restaurants. Hah! After a fruitless attempt to find one or two of the suggested establishments, I conceded to the urgency of the "Mom, I'm hungry" cries and instead we returned to Campo San Stefano where we ate a decent, reasonably-priced meal at Ristorante San Stefano. As we relaxed over coffee after our meal, I studied the map in our guidebook, trying to commit the general layout of the city to memory. The boys were exploring the piazza – which is just the right size for enabling some independence, but not so large that they could disappear out of view. Although, when they came barreling back to us at top speed having 'discovered' a gelateria at the other end of the square, there was no way we could miss them.The Gelateria Paolin is one of the city's oldest gelateria and is world-famous for it's pistachio gelato. An excellent way to end to a busy day.
Related posts:
Navigating Venice By Vaporetto
Subscribe to this blog using RSS, email or follow me on Twitter.

Share and Enjoy