You might think I'm kidding, but I truly do. I've always been a Lego fan. I actually love it when my kids get complicated Lego sets as gifts because I know I'm going to be called in to help put the models together.
In 2001, we visited Legoland California. I think I was more excited than the kids.
The folks at TravelSavvyMom recently posted about not spending Thanksgiving at home. I think Debbie commented on her plans to visit the San Diego area this coming Thanksgiving and mentioned that she'd probably try to fit in a visit to Legoland with her kids. Which, I think, makes these fitting Photo Friday submissions

CAM, Darth Vader and R2D2

Look, the Lego kids are bigger than my kid!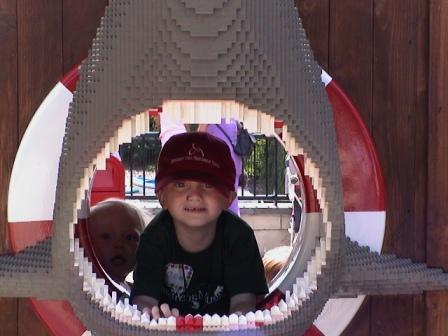 Kids in a shark.
Related posts (more travel photos):
but i thought we were going to rio for mardi gras
Mayan ruins and water parks in Mexico
The flea market in Lucca
Subscribe to this blog using RSS, email or follow me on Twitter.
Share and Enjoy